Dr. Catalona on His Prostate Cancer Research:
Early Detection Matters, Genetics Plays a Role, and We Have More to Learn
Early in his career, Dr. Catalona cared for patients who were suffering and dying from metastatic prostate cancer, when disease was caught too late to be cured. After this experience, he was moved to dedicate his research to the early detection of prostate cancer. As a direct result of his research, including his development of the PSA test for early detection of the disease, tens of thousands or more men have been saved from needless suffering and death.
As a second-year urology resident, Dr. Catalona ran the Johns Hopkins first chemotherapy program for prostate cancer. There, he treated a large cohort of patients with end- stage prostate cancer. "It was a sad experience," Dr. Catalona said. "It quickly became apparent to me that early diagnosis and effective appropriate treatment was urgently needed to reduce suffering and death from prostate cancer, which remains the second-leading cause of cancer death in U.S. men. This started me on my studies of PSA as an aid to early detection."
Early detection is key
Dr. Catalona was the first to introduce the PSA, free PSA, and pro- PSA blood tests as aids to the early detection of prostate cancer. Moreover, he directed the national pivotal studies that led to the FDA's approval of these tests.
The introduction of the PSA as routine care for men had a tremendous impact on public health— and for many individuals. During the PSA screening era (1992-present), there has been an 80% decrease the percentage of men who have advanced disease at diagnosis and more than a 50% decrease in the U.S. prostate cancer death rate.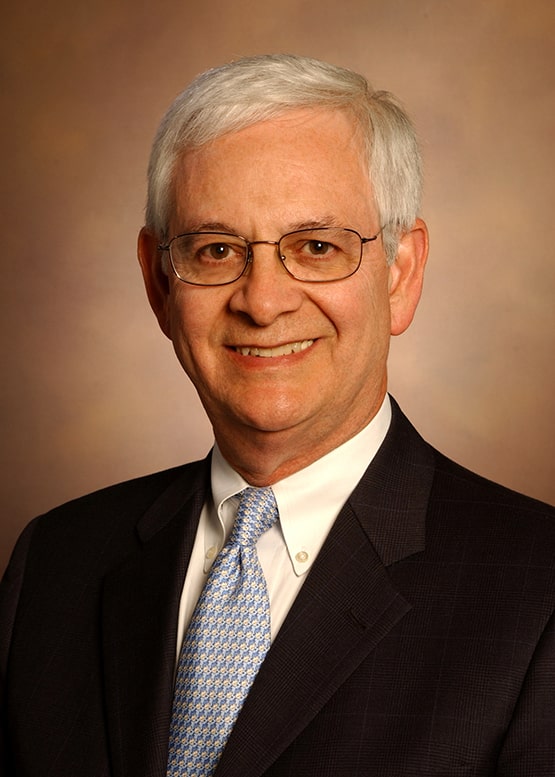 Genetics is another piece of the puzzle
Lately, he has pivoted his research towards genetics. "Fundamentally, all cancer has an important genetic component, and, in recent years, my research efforts have focused on determining the genetic variants that render men susceptible to develop prostate cancer and which ones drive its aggressive behavior. In this context, you can see a unifying theme among my research projects."
In collaboration with deCODE Genetics, Inc., Dr. Catalona participated in the discovery of the first prostate cancer "risk SNP" (single nucleotide polymorphism) associated with increased susceptibility to develop prostate cancer. His collaborative research group with Dr. John Witte at University of California San Francisco has identified other genetic variants associated with prostate cancer aggressiveness. They continue to collaborate on the genetics of prostate cancer aggressiveness up to the present.
SPORE (Specialized Project of Research Excellence) in Prostate Cancer
Since 2013, Dr. Catalona has served as the Principal Investigator of this endeavor, which has funding from the National Cancer Institute and includes four major research projects.
Dr. Catalona is the Clinical Lead for one of the projects, entitled Impact of Genetic Variants on Failure of Active Surveillance for Prostate Cancer. "My SPORE project, in which we to have made some exciting discoveries, examines which patients with seemingly low-risk prostate will fail conservative management with active surveillance," Dr. Catalona said.
The other project leaders are Dr. Witte and Dr. Helfand (North Shore University HealthSystem).
This study enrolled 7,279 men diagnosed with prostate who elected to be managed with active surveillance from 28 study sites in the U.S., Canada, Australia, and the Netherlands. The project's main discoveries are identifying genetic risk scores and genetic variants that add new information to help predict how aggressive a patient's prostate cancer will become.
"When scientific discoveries such as these are made, follow-up studies are warranted. First, the results need to be replicated in an independent patient population. Next, they must be tested prospectively in third independent group of patients in a "real-world" clinical setting. This is the work that I plan for the future," Dr. Catalona said.
Thus, Dr. Catalona is assembling the Replication Cohort for SPORE Project. "This project extends the SPORE studies to determine whether the project results
can be replicated in an independent population," Dr. Catalona said.
To date, 2,535 patients have been identified to participate. However, thousands more are needed to provide DNA from a blood or saliva sample, which will then be genotyped for genetic analyses.
The Prostate Cancer Active Surveillance Project (PCASP)
Dr. Catalona conceived and, with collaborators, set this project into motion. "Our PCASP project is designed to use our SPORE project results to develop a clinical decision aid that can be implemented in practice to guide patients and their physicians to appropriate high-quality, cost-effective, personalized care and disseminate the information (through Dr. Stacy Loeb's social media expertise) to the medical community and general public," Dr. Catalona said.
This project leverages information technology to conduct research in a more cost-effective way with the overarching goal being to improve the quality of health care for patients managed with active surveillance for prostate cancer.
Unraveling the genetic underpinnings of the development and progression of prostate cancer will provide insights into earlier diagnosis, more appropriate patient management decisions, new and possibly more effective treatments, perhaps with fewer side effects, and even the holy grail of methods for prevention.

-Dr. Catalona
Multiethnic Genetics Studies to Inform Risk Prediction for Prostate Cancer
The Principal Investigators for this NIH-funded grant are Drs. Christopher Haiman & David Conti, University of Southern California. Dr. Catalona is a collaborator and has pledged to contribute DNA samples on African-American prostate cancer cases and African-American men without prostate cancer. This effort be being aided by Drs. Adam Murphy in Northwestern's Department of Urology and Megan Roy-Puckelwarts of Northwestern's NUGene project.
This study addresses known racial disparities in prostate cancer. "My Multiethnic collaboration is with the world leader in multiethnic genetic studies and focuses on the important germline genetic issue of why Black men have a 200% higher incidence and 50% higher mortality rate," Dr. Catalona said.
Genetic Changes over Time with BRCA2-Associated Prostate Cancer
Dr. Catalona conceived this project, which currently is being performed by Drs. Mitchell Machiela and Stephen Chanock at the National Cancer Institute.
Men with mutations in the BRCA2 gene are more likely to develop aggressive prostate cancer and other tumors, and women with the mutations are more likely to develop aggressive breast cancer and other tumors. More research is needed to understand why and how this happens. "My genetic changes in BRCA2 mutation carriers project seeks to determine the genetic changes and their time course of why carriers of these mutations develop aggressive prostate, breast, ovarian, and pancreatic cancer," Dr. Catalona said.
Immunoregulatory Spherical Nucleic Acids for the Treatment of Advanced Prostate Cancer
This is a vaccine concept project with Drs. Chad Mirkin, Bin Zhang, Andrew Lee, Timothy Kuzel, and Dr. Catalona. A grant application designed to move this concept into human studies is currently under review at the NCI.
Immunotherapy for prostate cancer has been largely unsuccessful to date, but the concept in this study shows promise. "This study involves a continuation of two previous grants used to develop a novel immune-oncology platform that could be applied to immunize against a vast array of antigens," Dr. Catalona said.
Understanding Prostate Cancer in Men with Inflammatory Bowel Disease
This project is supported by a Translational Sciences Bridge Award from Northwestern's Lurie Cancer Center. Drs. Shilijit Kundu, Jennifer Wu, Sarki Abdulkadir, Zhe Ji, and Catalona are collaborators. "My collaboration on the link between inflammatory bowel disease and prostate cancer is intriguing because the two conditions share some common germline genetic associations that may dovetail with my other genetic studies," Dr. Catalona said.
Covid-19 Antibodies and PSA Testing
This collaboration was conceived by Dr. Catalona, and a research collaboration currently is being developed among Dr. Rashid Siddiqui, Christopher Crutchfield, Michael Ison, Beckman Coulter, Inc. "We are studying possible interfering effects of antibodies induced by COVID-19 infection and/or immunization on important blood tests, including PSA measurements, which could have clinical implications in the future," Dr. Catalona said.