Chris Newman Pursues a Creative Life After Cancer
by Betsy Haberl
In 2015, Chicago artist Chris Newman was diagnosed with prostate cancer. This summer, he is five years out from his surgery with Dr. Catalona and celebrating seeing one of his sculptures on display in downtown Chicago.
For 25 years, Chris' PSA score had been high. But in 2015, he had missed a couple of annual PSA tests, and his latest PSA came back very elevated. Suspecting prostate cancer, his urologist performed a biopsy. At age 72, Chris was diagnosed with moderately aggressive prostate cancer.
Next, Chris weighed his treatment options. He believed his family history of the disease should be taken into consideration. This led him to Dr. Catalona, who is an expert in the familial nature of prostate cancer. "It runs in the family," Chris said. "That's why I went to Dr. Catalona. I was very impressed when we first met, no question."
Dr. Catalona performed Chris' radical prostatectomy. In subsequent years, Chris has needed some post- operative treatment, including radiation and hormonal therapy. In the midst of this, he remains positive and grateful for his results. "I've been given the opportunity to not fall victim, or have it shorten my life. Life is indeed precious," he said.
An artist at work
Chris has an MFA and an MBA. He has been creating art and sculpture for all his adult life, but he spent a number of years working in the fields of architecture and hospital planning and development. Five years ago, he left behind his career in business and pursued sculpture as a full-time artist, a transition he speaks about with excitement.
His sculptures span a range—from small to large, figurative to abstract. He is actively involved in the Chicago Sculpture Exhibit, a nonprofit organization whose mission is to bring art to neighborhoods. He's exhibited in Chicago frequently with large-scale pieces in the urban environment, as well as sculptures at the Lincoln Park Zoo and the Lurie Children's Hospital. His work can be viewed at chrisnewmansculpture.com.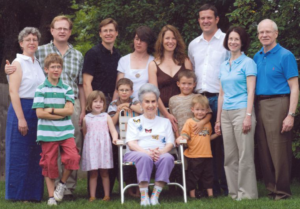 Totem III, a connection through QUEST
This year, the Chicago Architecture Center selected one of Chris' sculptures, Totem III, to be displayed outside their building in downtown Chicago. He's proud of the sculpture, which he constructed out of perforated steel. "You have a different way in which you look through, see what's through on the other side. I hope this is captured in my sculpture. Totem III can be transparent and invisible. It has an open conversation with the surrounding buildings. This metamorphosis must be the main reason Chicago Architecture Foundation selected it," Chris said.
The perforated stainless steel Chris used to construct the Totem III sculpture came from McNichols Co. The Summer/Fall 2019 issue of QUEST featured Gene McNichols, who is also one of Dr. Catalona's patients and the CEO/Chairman of McNichols Co. When Chris read the story about Gene in QUEST, he was delighted to learn he and Gene were both Dr. Catalona's patients. Dr. Catalona called it "a delightful coincidence" that his two patients were connected in this way.
Chris has used McNichols stainless steel in other sculptures as well. He said, "It breathes life into its surroundings and the shapes revealed through its transparency." Gene McNichols was also enthusiastic about the connection. He said, "I get a thrill when people imagine our metal in so many different applications. I was thrilled to see the connection with Dr. Catalona and Chris surviving cancer, and then to make something out of his vision. It's really interesting, really great." Gene said he looks forward to seeing the sculpture in person next time he is in Chicago.
An active life in Chicago
Chris and his wife, Nancy DeDakis, have been married for 28 years. They both enjoy the rich cultural life that Chicago offers. "It's the center for a lot of world-renowned activity, particularly in art, music, and medicine as well," Chris said. Nancy also has a background in art and has worked at Chicago institutions such as the Museum of Contemporary Art and the Field Museum.
Nancy and Chris have three sons, Aron, Matthew and Alec, and seven grandchildren. Their family is spread across the globe in Brussels, Maryland, and Minnesota. Chris and Nancy spoke with pride of their children's
successes.
Chris has strived to stay healthy by playing tennis, racquetball, and squash. In 2013, he was inspired by watching one of his sons, Matthew, run in the Boston Marathon. "I didn't say anything to anybody, but I decided to take on running a marathon," Chris said. He started training and, impressively, in the last seven years he has run three full marathons and a handful of half marathons.
Matthew lives with his family in Brussels, and running has been a great way for Chris to spend time with him when they are able to be in the same city. They've run a race together, although Chris noted with a laugh his son runs at a different pace. Chris spoke happily of Matthew's visit two years ago, when they were able to run together on the shores of Lake Michigan in Chicago.